Description
ALL-NATURAL THYROID TREATMENT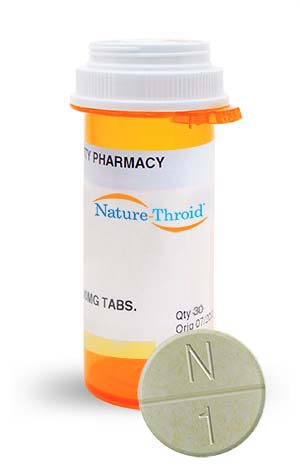 Nature-Throid was first released in the 1930s, making it one of the first available medications for hypothyroidism. Trusted for more than 80 years, Nature-Throid has never been voluntarily or FDA-recalled for inconsistent T4 or T3 hormones. Our affordable and hypoallergenic medication remains in high demand by doctors and patients alike.
The benefits of Nature-Throid include:
T4 & T3 replacement hormones derived from natural desiccated porcine thyroid
Naturally occurring thyroid cofactors T1, T2, calcitonin and iodine (in trace amounts)
Always gluten-free
Contains NO artificial colors or flavors
Contains NO soy, yeast, egg, fish or shellfish, corn, peanut, or rice
USING NATURE-THROID FOR MAXIMUM BENEFIT
Take Nature-Throid in the morning on an empty stomach 30-60 minutes prior to food or caffeine with an 8 oz glass of water unless otherwise instructed by your physician. If you've already eaten, this medication can be taken two hours after consumption with an 8 oz glass of water, after which you must wait 30-60 minutes before consuming food or caffeine.
Some medications and supplements may lower the effectiveness of Nature-Throid when taken together, so it is important to take Nature-Throid at least one hour before any other medication.
Calcium supplements, iron products, or antacids must be taken four hours apart. Some foods may cause your body to absorb less Nature-Throid, including walnuts, infant soy formula, cottonseed meal, and high-fiber foods. Talk to your doctor about adjusting your dose if you consume these foods. Always follow these guidelines unless otherwise instructed by your physician. Keep out of reach of pets and children.
AVAILABLE STRENGTHS
Nature-Throid is available in 13 strengths. These vary from ¼ grain (16.25 mg) to 5 grains (325 mg). Availability depends entirely on the production runs and releases from RLC labs.
Most of these strengths are available to patients at the Institute for Progressive Medicine. To purchase Nature-Throid products from IPM, you must be a current patient. This product is prescription-only and is available in our office only to patients with a current prescription from an IPM docotor.
Source: https://www.naturethroid.com/
USES & SAFETY INFORMATION
Precautions
As with any prescription medication, talk to your doctor about any existing medical conditions, and let your doctor know immediately if you experience any side effects.
Tell your doctor if:
You have any food or medicine allergies.
You're pregnant, trying to conceive, or breastfeeding.
You are taking any other prescription or over-the-counter medications, or if you start or stop any medications while on WP Thyroid® and Nature-Throid®.
You suffer from any medical conditions other than hypothyroidism, particularly heart disease, clotting disorders, or adrenal or pituitary gland problems.
You have diabetes. Monitor your blood and/or urinary glucose levels as directed by your doctor and immediately report any changes.
You're taking anticoagulants (blood thinners).
Let your dentist know you are taking WP Thyroid® and Nature-Throid® before any surgery.
You experience any of the following symptoms: rapid or irregular heartbeat, chest pain, shortness of breath, leg cramps, headache, nervousness, irritability, sleeplessness, tremors, change in appetite, weight gain or loss, vomiting, diarrhea, excessive sweating, heat intolerance, fever, changes in menstrual periods, hives, skin rash or any other unusual medical event.
Warnings: Don't Take For
Do not take WP Thyroid® and Nature-Throid® either alone or in combination with other medicines, for the treatment of obesity or weight loss. In patients with normal thyroid levels, doses of WP Thyroid® and Nature-Throid® within the typical range used for hormone replacement are not effective for weight loss. Larger doses may result in serious or even life-threatening effects, especially when used in combination with certain other drugs used to reduce appetite.
Do not take WP Thyroid® and Nature-Throid® for male or female infertility unless it is associated with hypothyroidism.
Do not take WP Thyroid® and Nature-Throid® if you have hyperthyroidism or are allergic to any of its ingredients.
Use WP Thyroid® and Nature-Throid® exactly as prescribed. Unless otherwise directed by your doctor, do not stop taking either medication or alter how often it's taken. Many factors can contribute to the length of time symptoms are alleviated, though generally people feel an improvement within a few weeks. For some, though, improvement in symptoms may take up to three months. Your doctor will determine which dose is right for you. If any life changes or new symptoms occur, consult your doctor to adjust your dose. Continue to see your doctor until your dosage levels prove stable based on your lab work, then continue to see your doctor at their request. Thyroid replacement therapy is usually taken for life.